​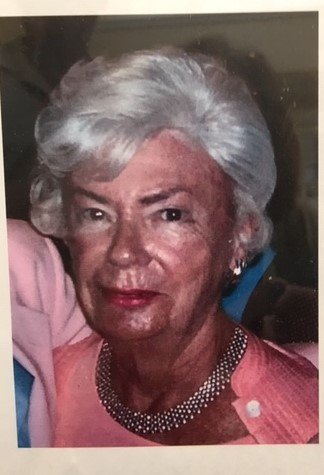 Obituary of Joy L. Straub
On September 26, 2019, Helen Joy Langan Straub returned home to be with her Heavenly Father. We have not heard as yet whether He has opened the door.
Helen Joy, "Joy" to all who knew her, was born the eldest of Theodore and Helen Langan's four wild Irish roses, in Kearney, New Jersey, on June 6, 1933.
For 30 years Joy acted as a RealtorⓇ to countless clients, many of whom came to know her as a friend. There are people still living in the homes Joy helped them to buy. She was a caring businesswoman, better at negotiating for others than she was for herself.
Epic tales of her days at 311 Hartford Road, South Orange, exist in the celebrated canon of suburbia. Joy loved, and was adept at, organizing parties the living still speak of in reverent hyperbole. Her mantra, "Too much is better than not enough." Joy's leftovers were exquisite and meant mini-parties for days beyond the original bash. She made 311 her home, as well as her children's and their families', for 48 years.
Moving to the shore in 2004 meant a closer proximity to Atlantic City and Monmouth Race Track. She did all she could to help stave off Donald Trump's casino closings and bankruptcies but to no avail. Joy had a wicked sense of humor, playing off the staid persona of the pious, Irish-Catholic girl to often wonderful affect. All this said, however, she was not always easy to get along with. Her temper is legendary. We'll leave it at that and share tales privately.
When bridge parties were in vogue, Joy would have "the girls" over and play (and sip) and eat Town Hall Sloppy Joes. But anyone who knows Joy knows her deep affection for the Black Jack table and horse races far surpassed the allure of an overcall or takeout double. Joy was not a kibitzer. Don't tell the Pope but The Kentucky Derby had a place in her heart nearly as great as the spaces reserved for Easter and Christmas.
She had a charitable side as well, delivering goods and acting as a caregiver to those in need. Every year she'd have a pile of calendars as evidence from those she donated to from her bottomless pocket.
A beloved aunt and grandmother, a week wouldn't pass when she wasn't mailing out a card to one of her kin with a little somethin'-somethin' tucked inside. Joy was a family magnet. No event too minor that it wouldn't warrant getting together.
She loved the theater, especially musicals on Broadway.
She loved the beach, able to sit for hours and days on end.
She loved dining out with all comers, but especially with her late husband, Donnie, at The Beef and Ale House (later Cryan's), Victor's, Libretti's, and later with her permanent date, Jack McLaughlin, at St. Stephen's Green Publick House (and many others), keeping them all afloat one meal at a time.
She loved to travel, touring America, cruising Europe, and a regular visitor of Buck Hill Falls, PA, and Sea Girt, NJ.
She loved her Fox News. Sean Hannity is less one viewer.
Most of all, though, Joy loved her family and friends. She will be missed as long as those who survive her are alive.
And they are…
All six of her children: Donna Marie, (husband Thomas Hinkel); Theodore Robert; Christopher John (wife Sheila); Deborah Marie (partner Steve Holt); Kathleen Marie (husband Patsy Ragonese); and Timothy Michael.
Grandchildren: Donna Michelle and Robert Hinkel; Theodore Robert and Amanda Straub Sickel; Erik, Jeffery, and Kevin Straub; Patsy and Donald John Ragonese; Sara Pamela Horwitz; Ian James Sanderson, Sam Jude, Caleb Jeremiah, and Isobel Hope Straub.
Great-grandchildren: Langan Thomas, Leighton Cyree, and Loften James Hinkel.
We heard the distinct sound of a gate squeaking open and then gently closing, and then bagpipes and cheers. Joy is Home.
To plant a tree in memory of Joy Straub, please visit Tribute Store
Visitation
4:00 pm - 8:00 pm
Friday, October 4, 2019
Preston Funeral Home
153 South Orange Ave
South Orange, New Jersey, United States
Funeral Mass
10:30 am
Saturday, October 5, 2019
Our Lady Of Sorrows Church
217 Prospect Street
South Orange, New Jersey, United States
Final Resting Place
12:00 pm
Saturday, October 5, 2019
Gate Of Heaven Cemetery
225 Ridgedale Avenue
E. Hanover, New Jersey, United States
​
2122 Millburn Ave | Maplewood, NJ | 07040
153 South Orange Ave. | South Orange NJ | 07079